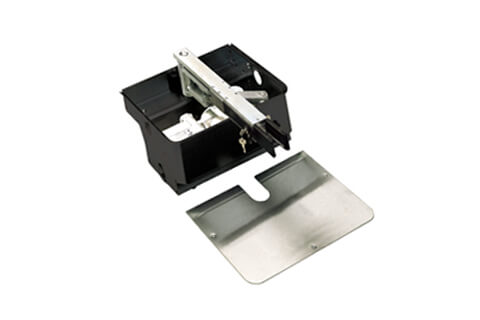 Inground Motor (24V or 230V)
Electro mechanical Inground motors for swing gates up to 3.5m or 500kg. These sit flush to the ground directly beneath the gate, making it more aesthetically pleasing. Inground motors are discreet and clean with ability to manually override in an emergency.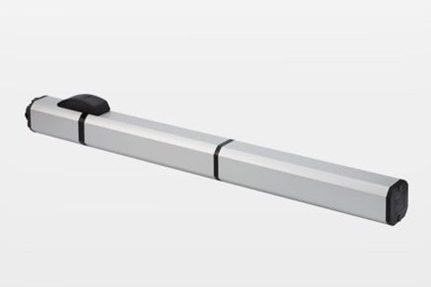 Hydraulic rams
Hydraulic rams have the ability to move some of the heaviest gate leaves.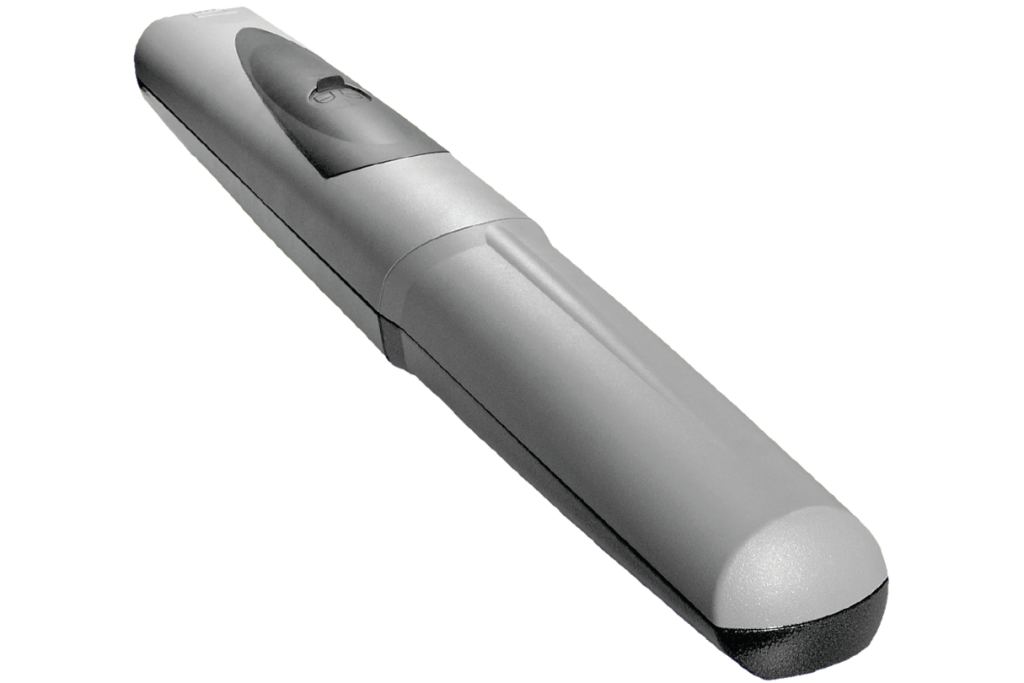 Electro-mechanical Rams
Electro mechanical rams are surface mounted to the rear of the gate leaf. Rams are typically used on larger swing gates, and where environmental factors mean the inground motor isn't appropriate.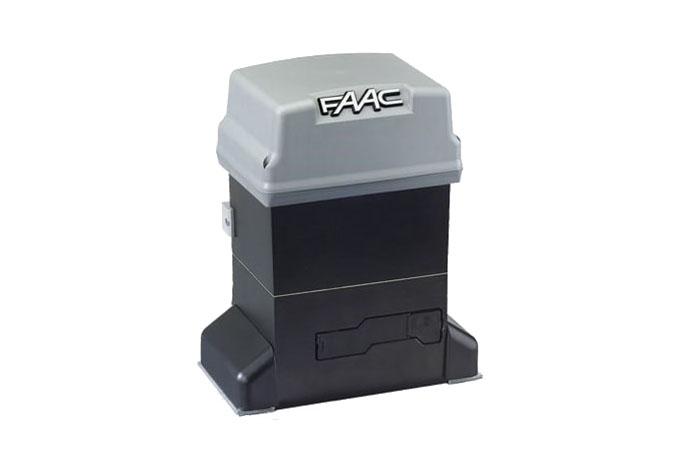 Sliding Gate Motor
Suitable for both ground track & Cantilever Sliding gates, these motors work via Rack & Pinion system, with the rack running parallel near the bottom of the gate.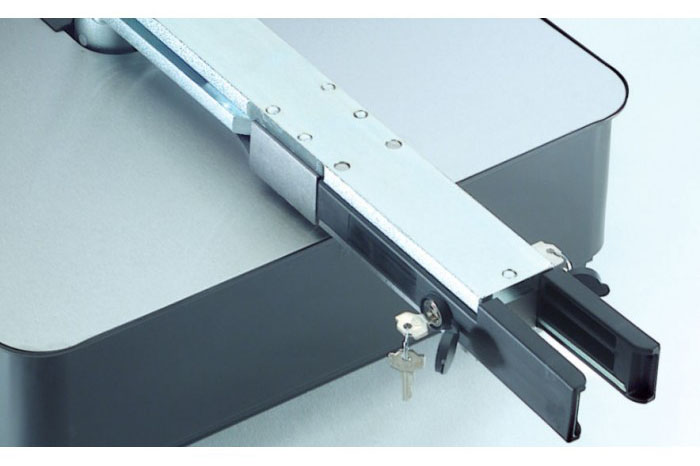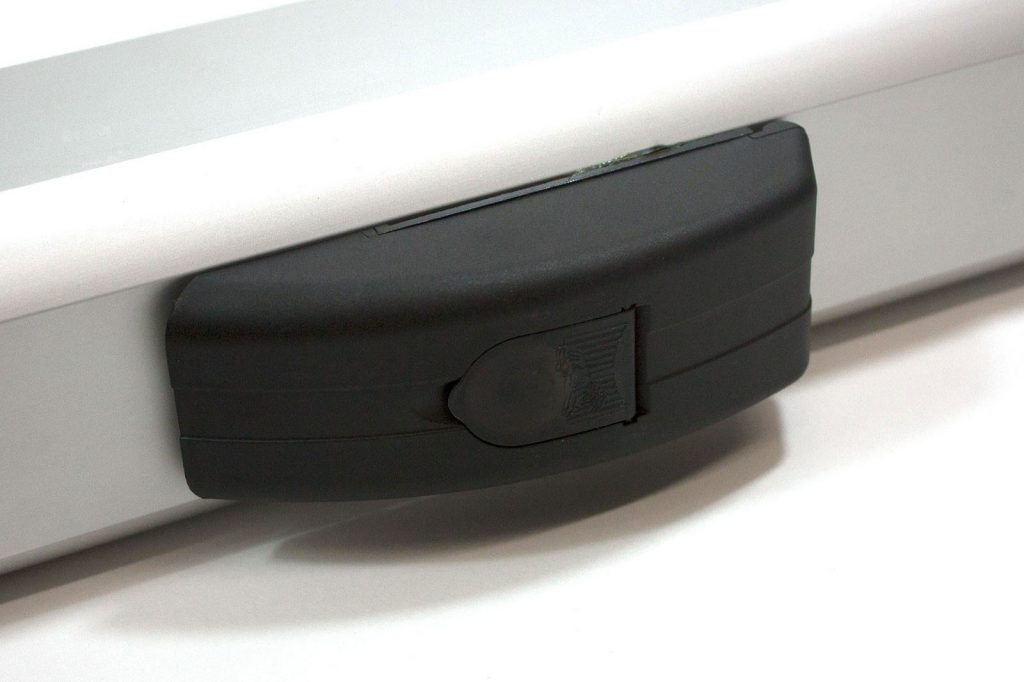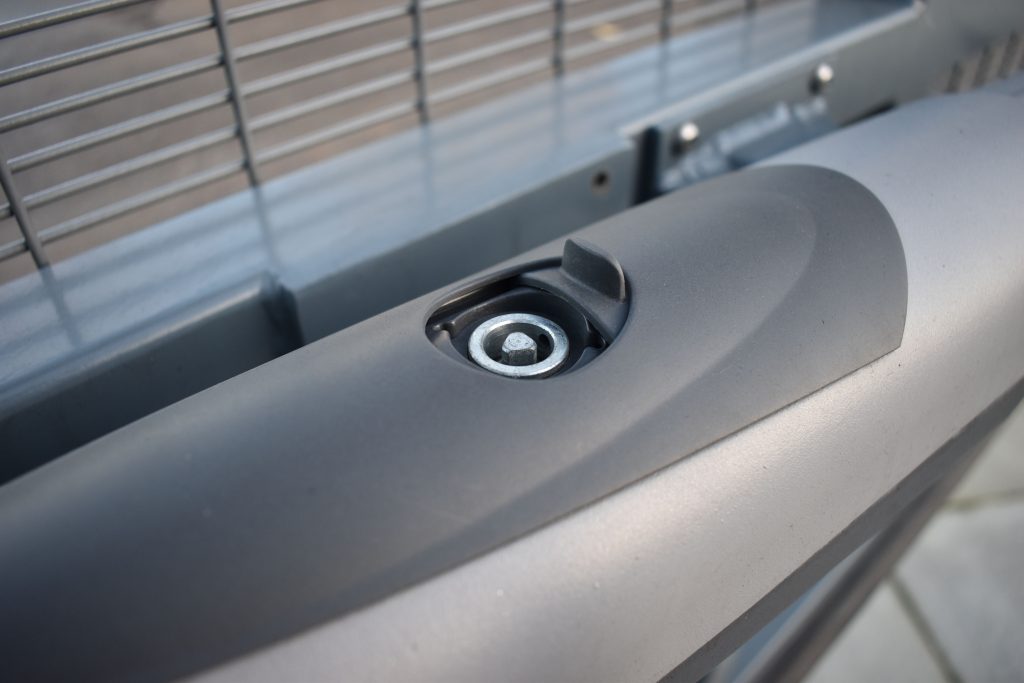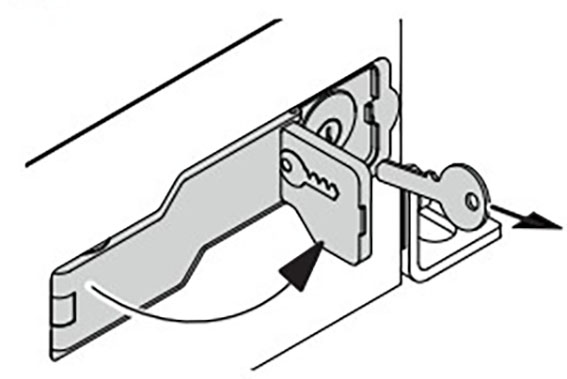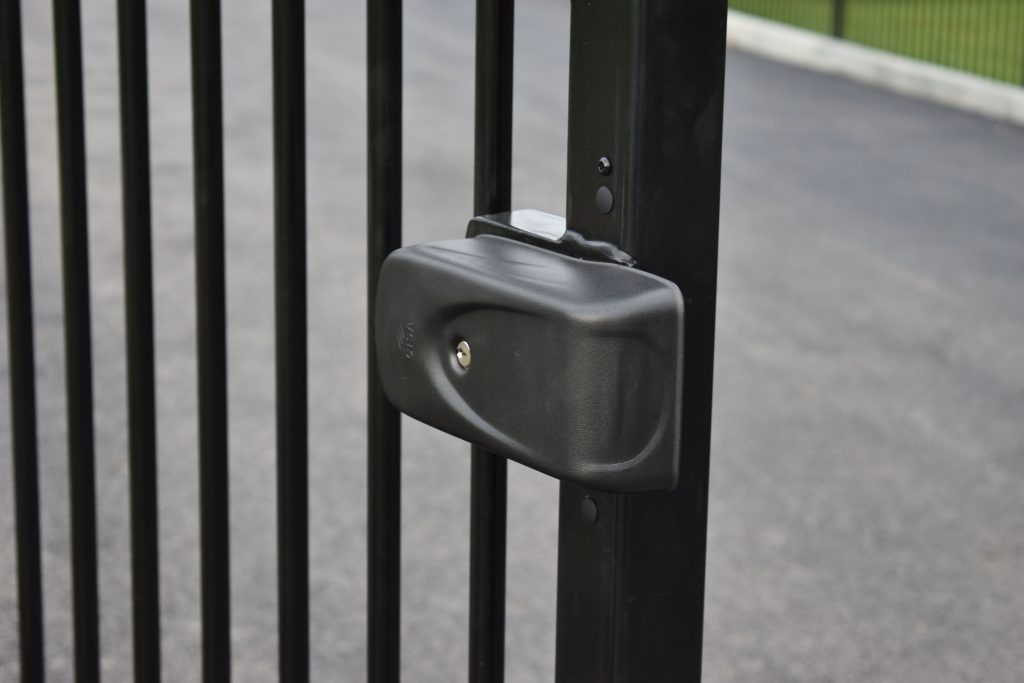 CISA Electrika
commonly found on our automated swing gates, these locks work on a rotary hook deadbolt, with a tensile strength of up to 2000kg. these can be released electronically, and has an integrated key override.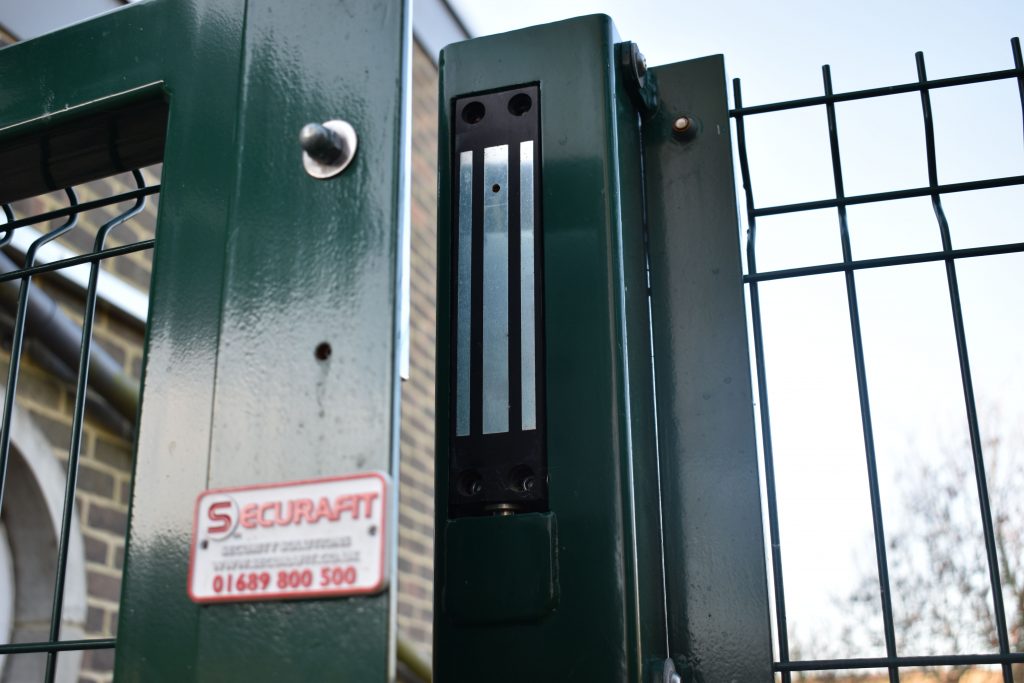 Maglocks
Electro-magnetic locks is a very poplar electric lock solution. paired with an Armature plate, the maglock will secure the gate in the shut position with sufficient force, however additional maglocks can be added to a gate to increase hold strength.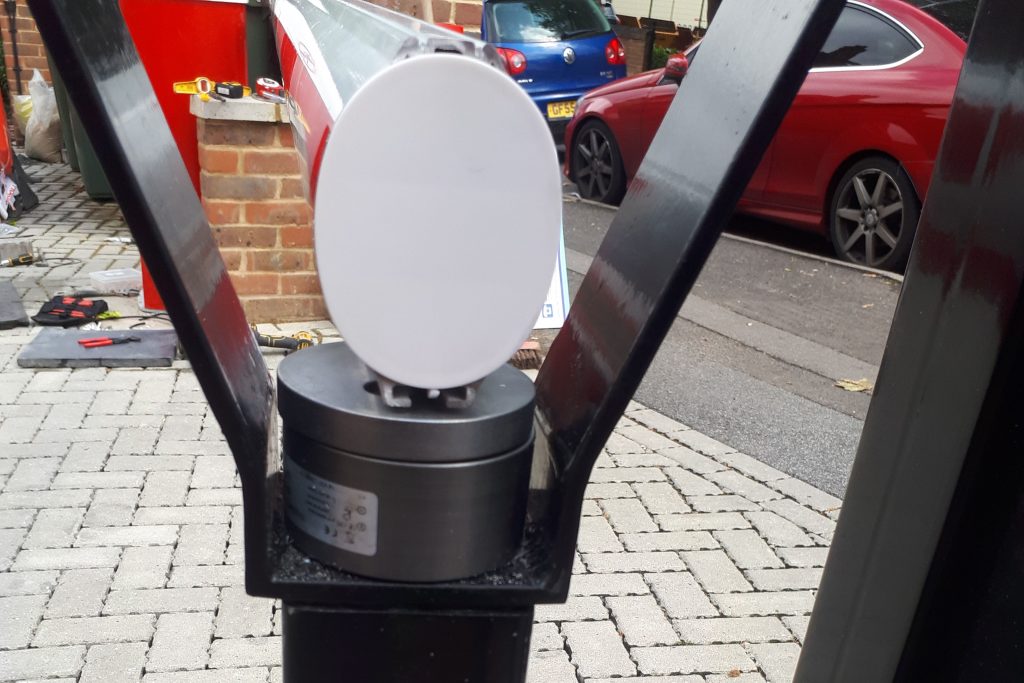 Rising Arm Barrier – Maglocks
Rising arm barriers can be reinforced with a maglock – preventing the rising arm being forced up.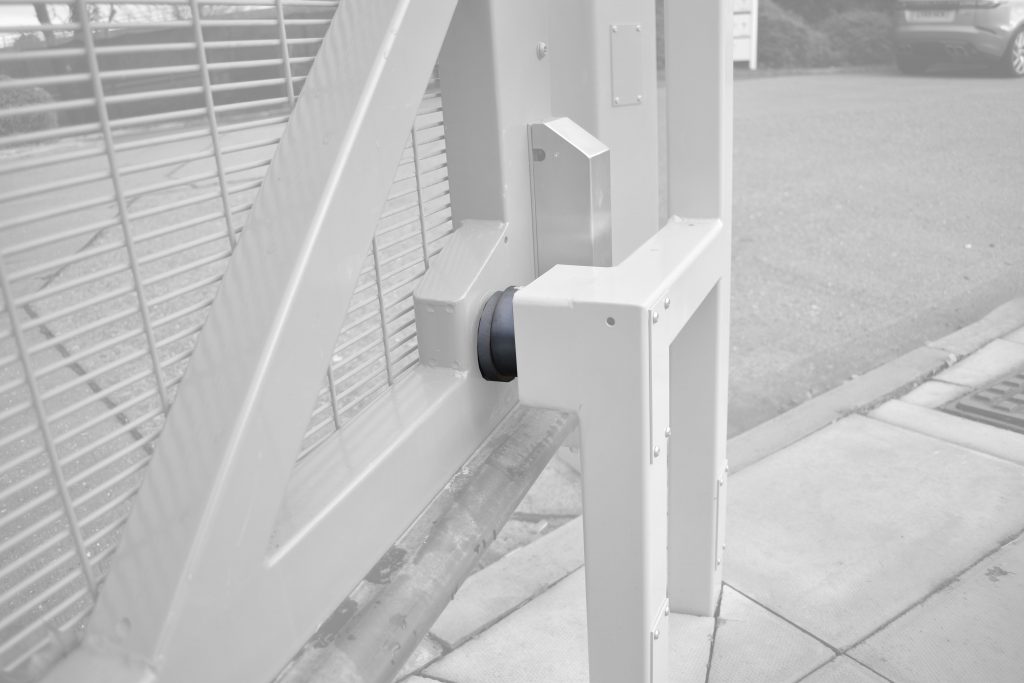 Hold-open Maglocks
Hold-open maglocks are designed to secure the leaf in the open position. The maglocks will switch off once the motors get a signal to close the gate again.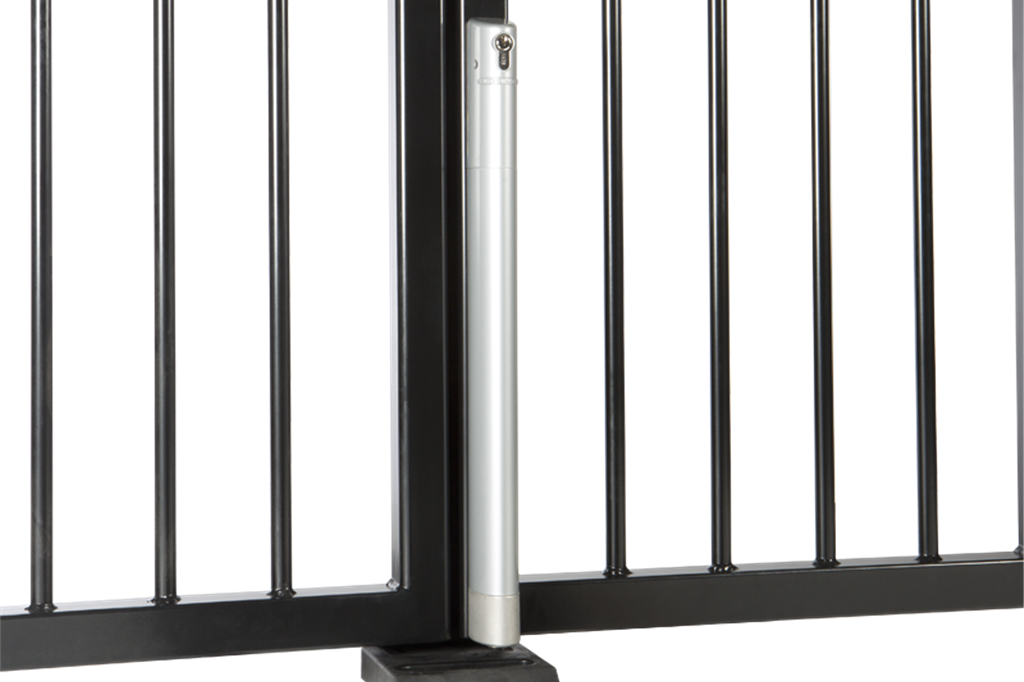 Solenoid Shoot bolt
The solenoid shoot bolt is an automated version of the dropbolts. when activated the solenoid shifts the bolt from the open to close position. this device is ideal for alleviating unnecessary strain on the motors.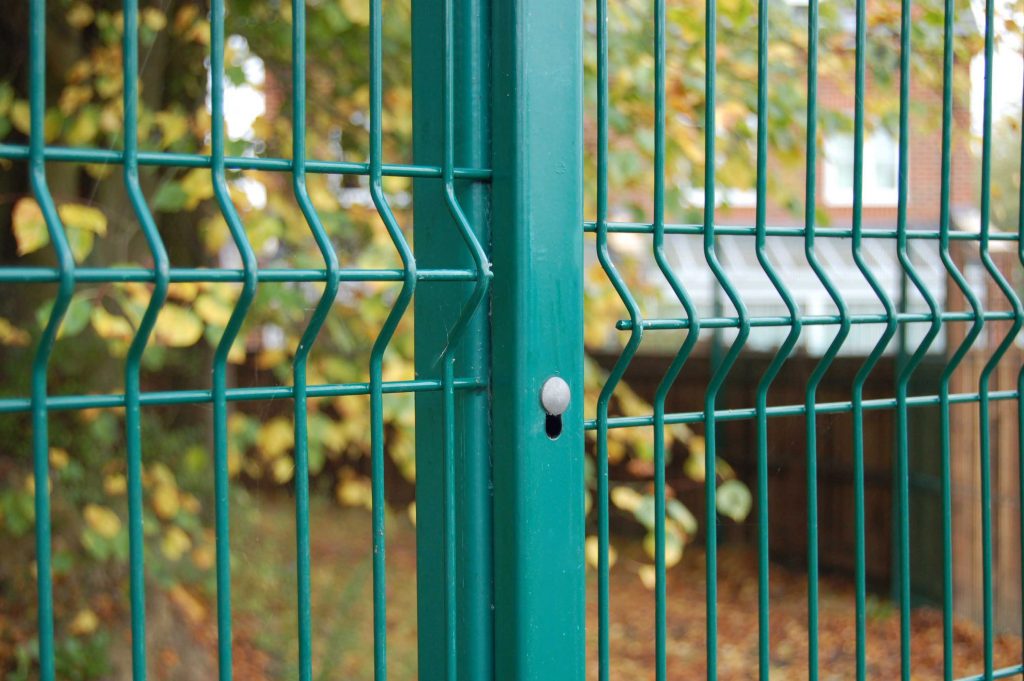 Mesh mount bars
the mesh on our gates are secured with mesh mount bars for added security.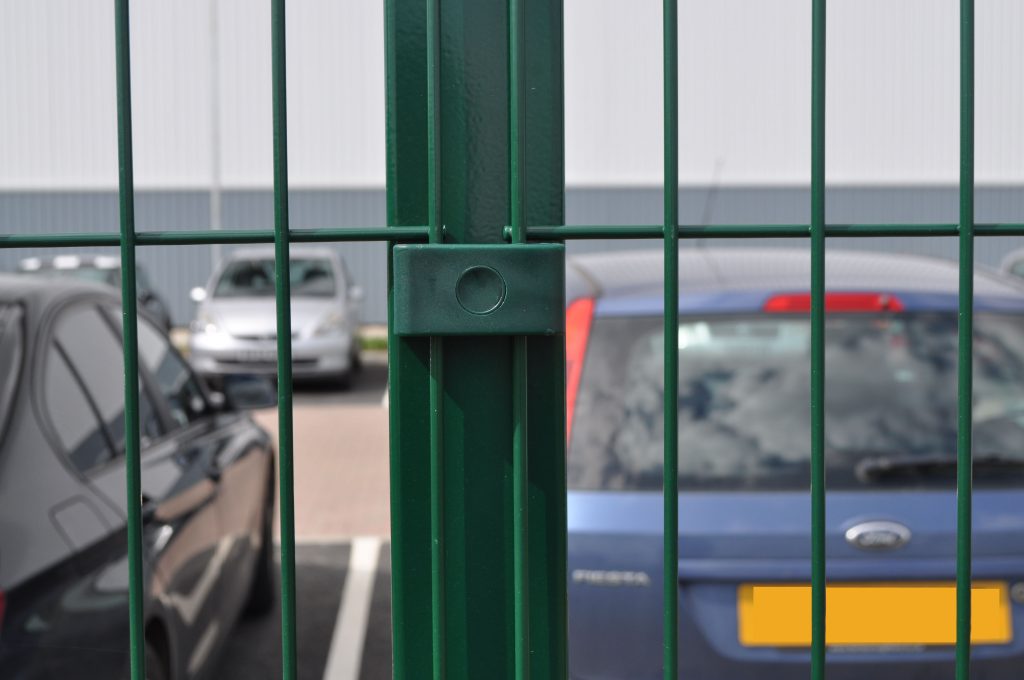 Mesh mounting clips
Mesh clips are a fast and flexible way of securing mesh panels to posts. Please note we do not use these on our gates.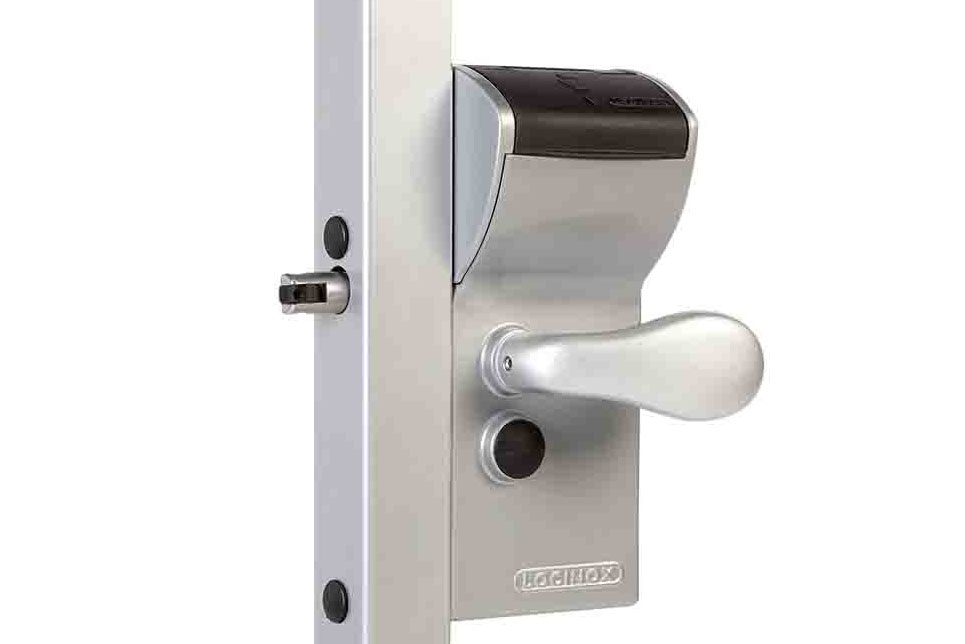 Digilock
Surface mounted lock with a mechanical digit keypad. complete with handle & deadlock.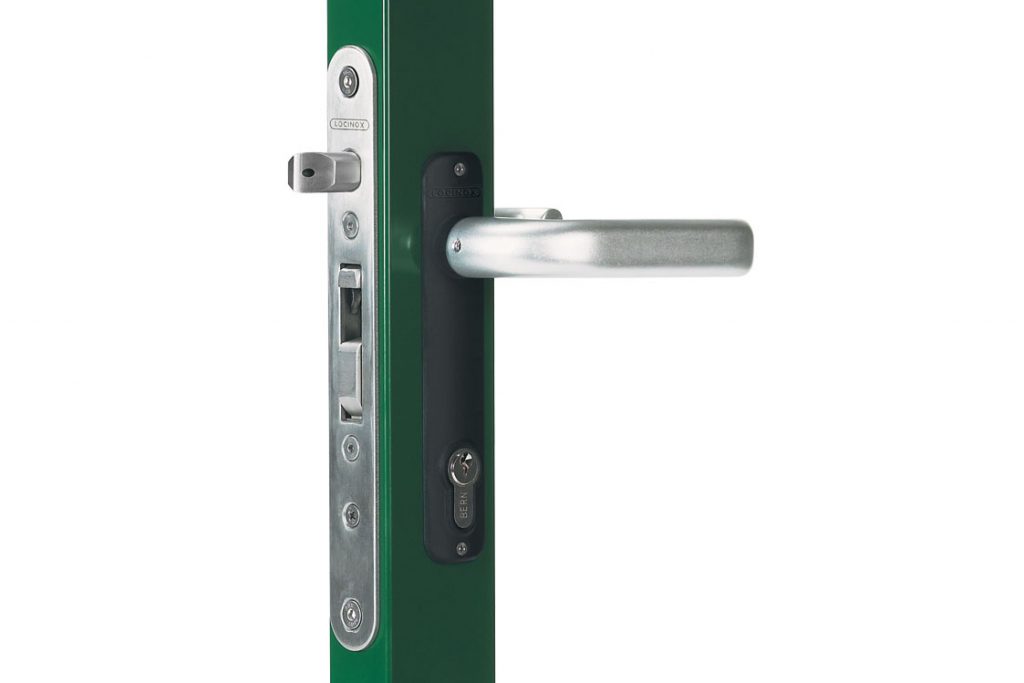 Compact insert lock
ideal for when surface mounted locks are suitable. self latching bolt with a deadlock for security.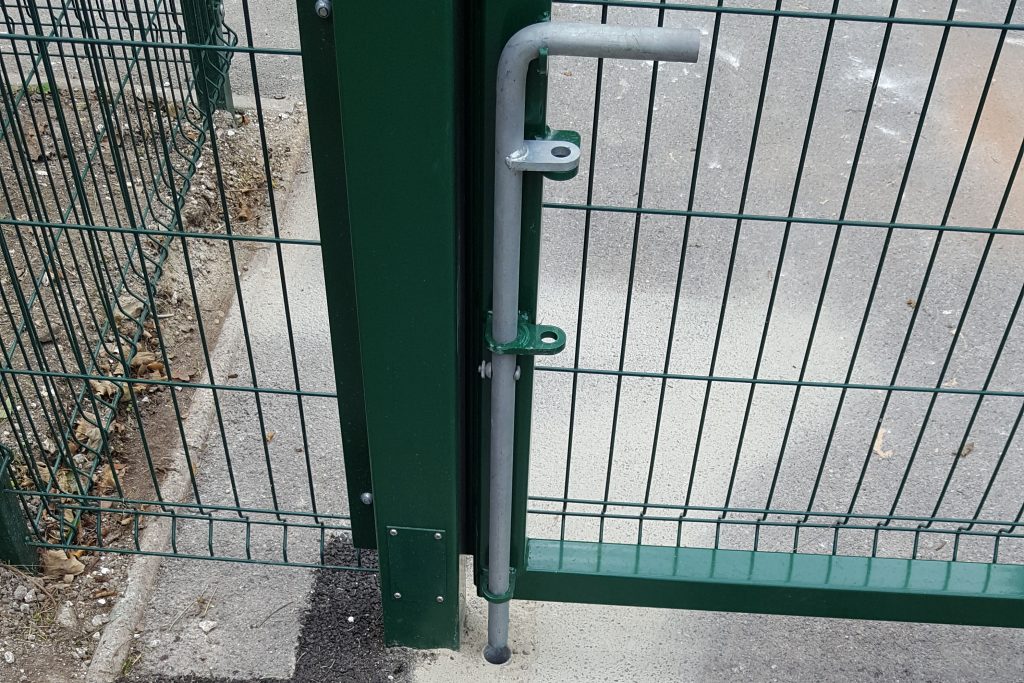 Lockable Dropbolts
Galvanised lockable dropbolts designed to secure the gate leaf into the gate to prevent the gate from swinging.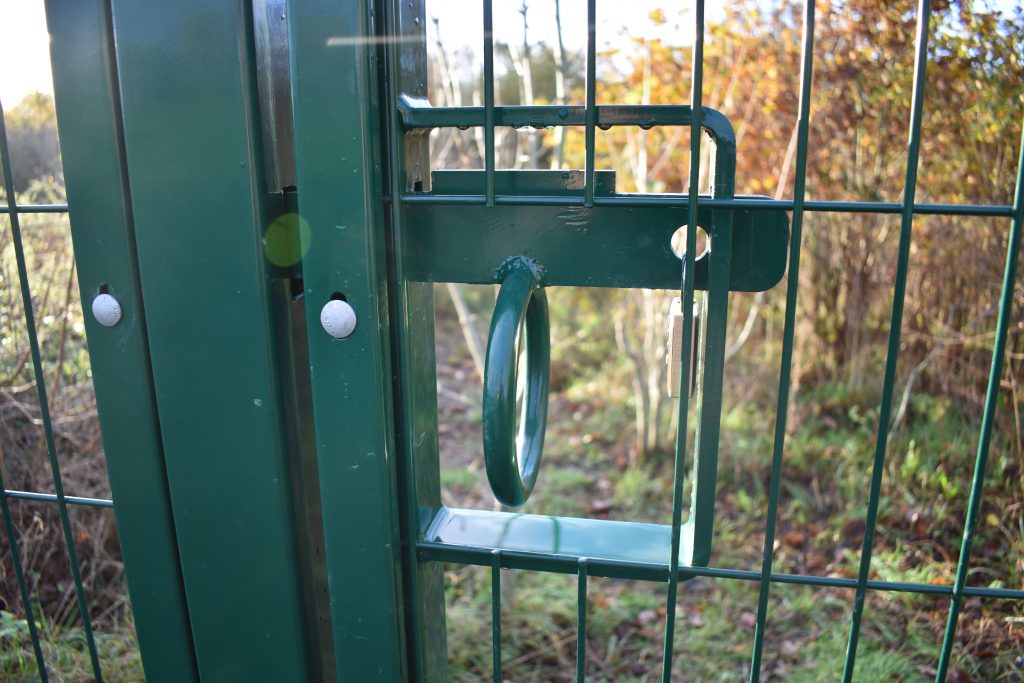 Lockable Slide Bolt
lockable slide bolts are an idea, low cost solution for gates with limited use. padlocks can be fitted either end of the slide bolt prevent the slide bolt from opening. These locks can be installed on either single of double leaf set of swing gates.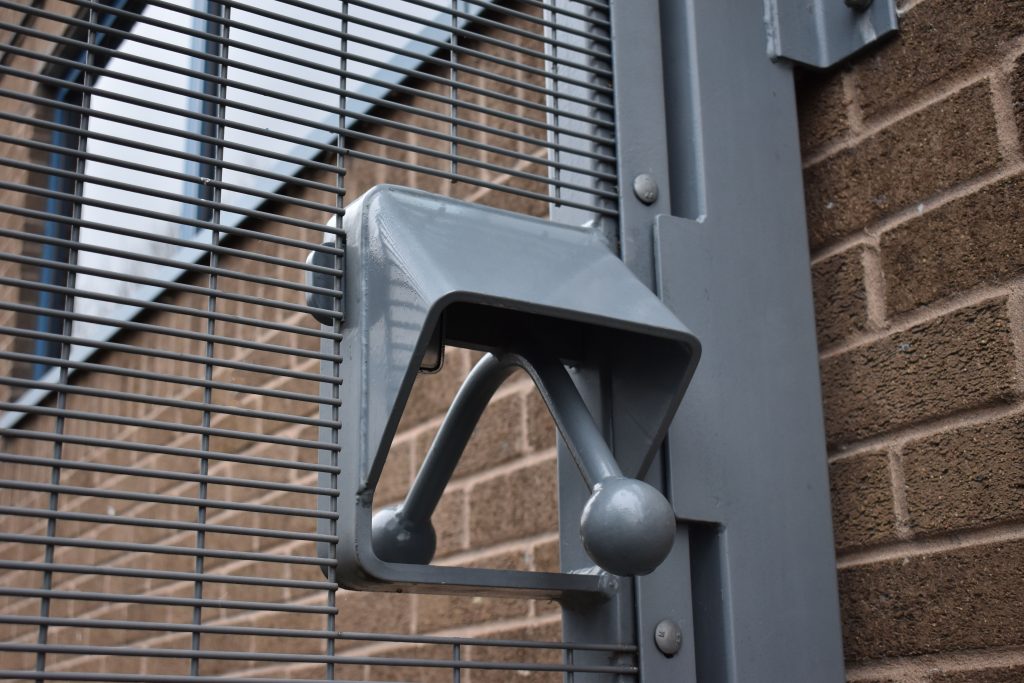 Lockable Slide Bolt with Shroud
Shrouds offer the additional protection against climbing points whilst also providing padlock protection – making it much harder for would-be intruders to break the padlock.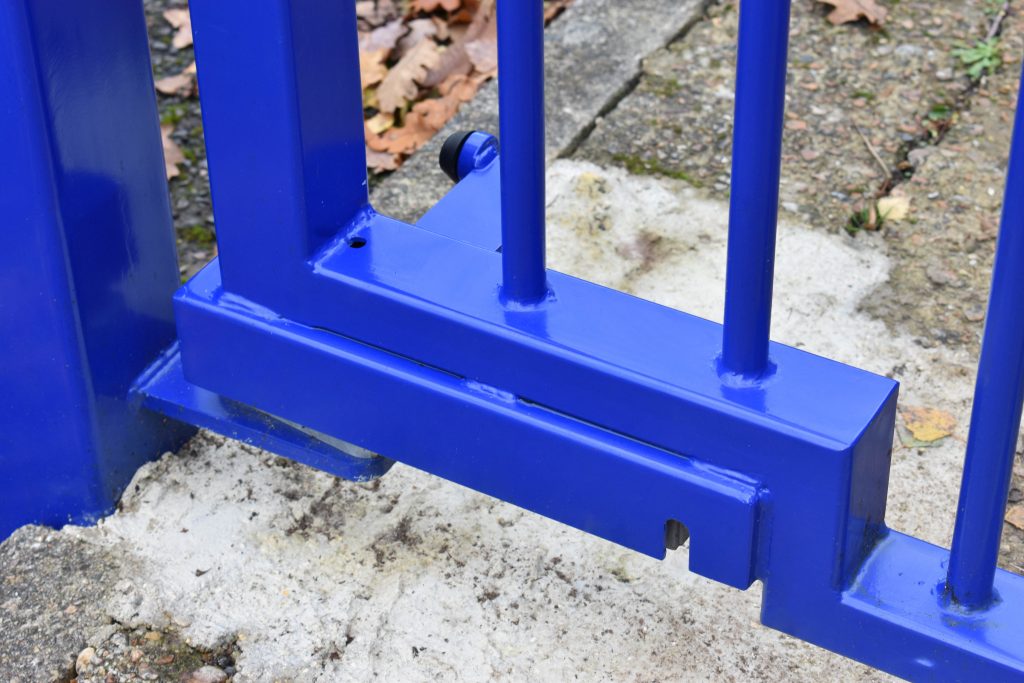 Built-in Closer
We can fabricate built-in Closers into our pedestrian gates to help keep your property secure. Once the gate is opened, the closer will gently bring the gate leaf back to the shut position.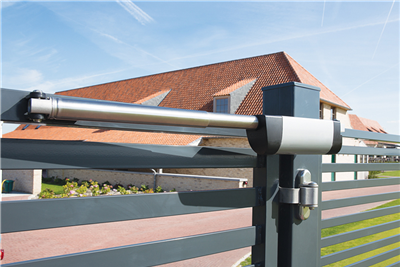 Surface mounted Closer
service the same purpose as the Built-in closer, the Surface Mounted Closer can be added retrospectively or to gates where the built in closer isn't suitable.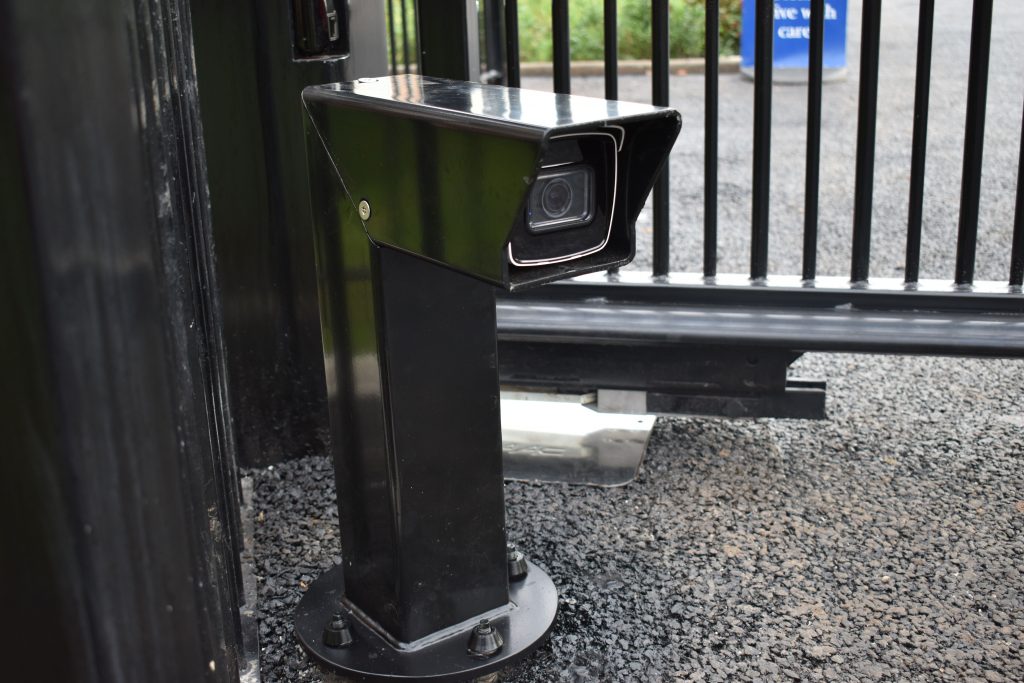 ANPR Camera
Number plate recognition cameras can be installed at both the entrance & exit to a gate – allowing authorised vehicles to pass freely through, whilst making unknown/unauthorised vehicles wait at the gate to be granted access through.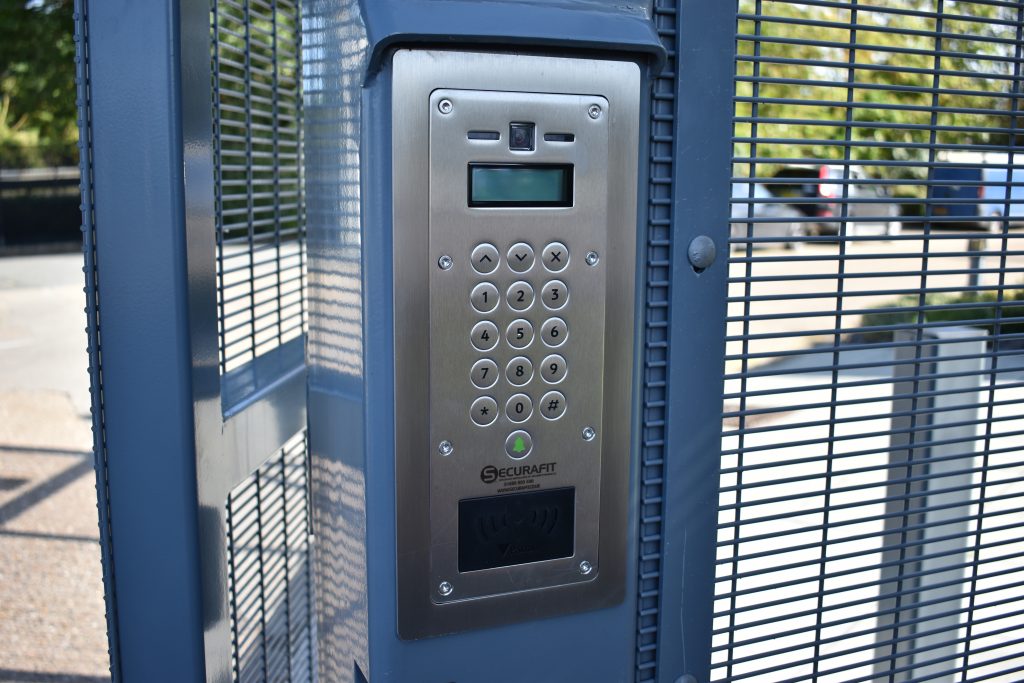 Video intercom panel
this all-in-one unit is ideal for commercial use for a busy entrance. This unit includes a fob reader, call button with video camera and a keypad.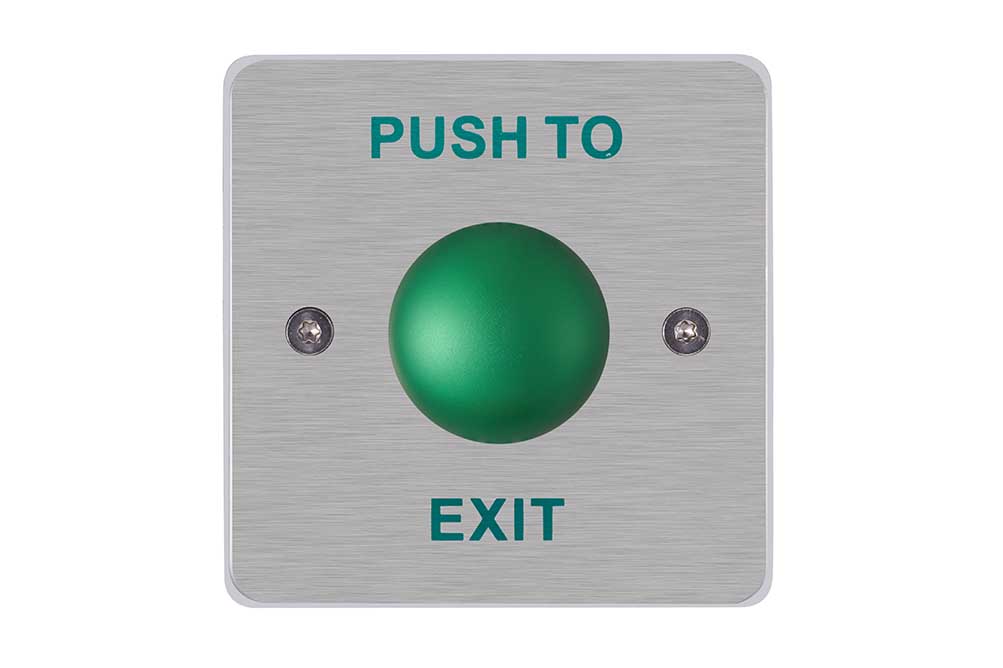 Push to exit (PTE) button
quick release button designed for use on exits. typically set back on a separate post for easy pedestrian access.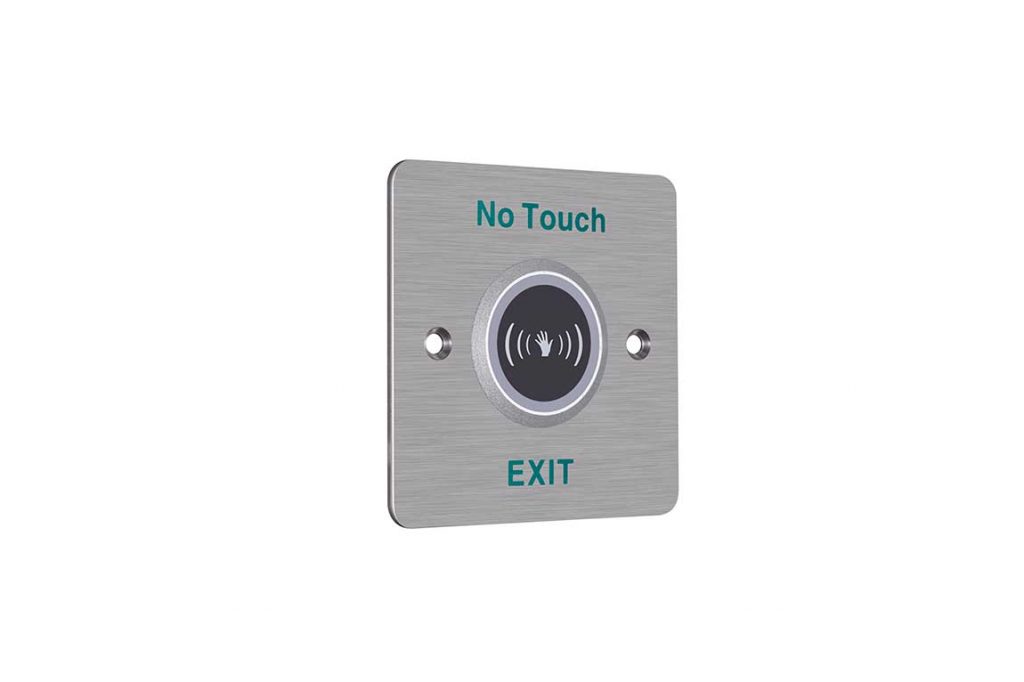 Contactless Push to exit (PTE) button
used in the same scenarios as the Push to exit button, this is a contactless option for a more hygienic approach.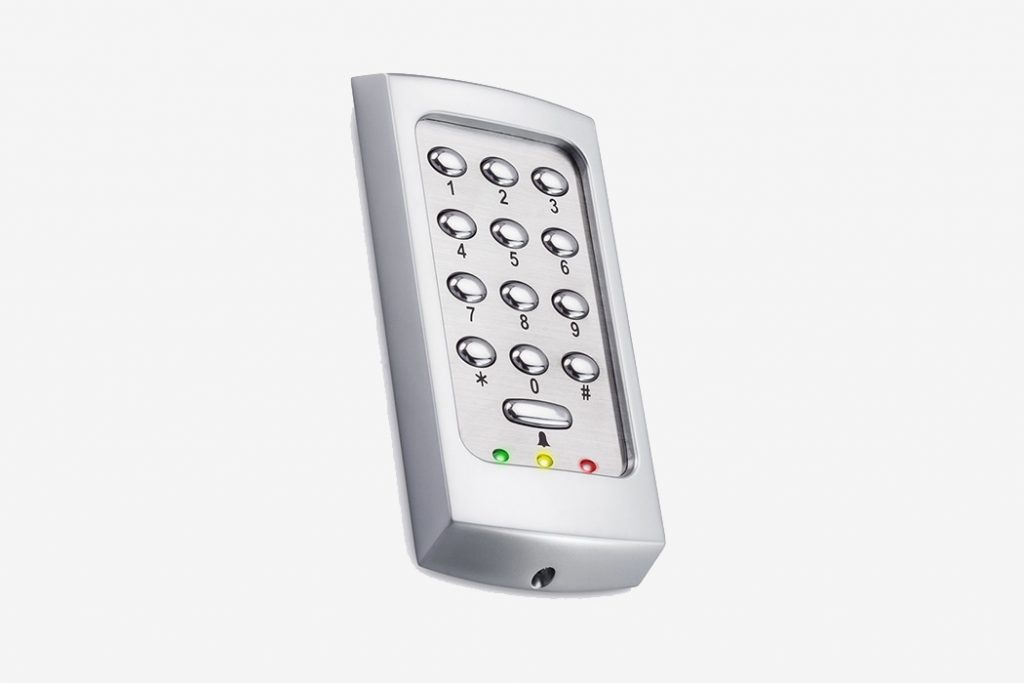 Proximity Keypad
A proximity reader with an integrated numerical keypad.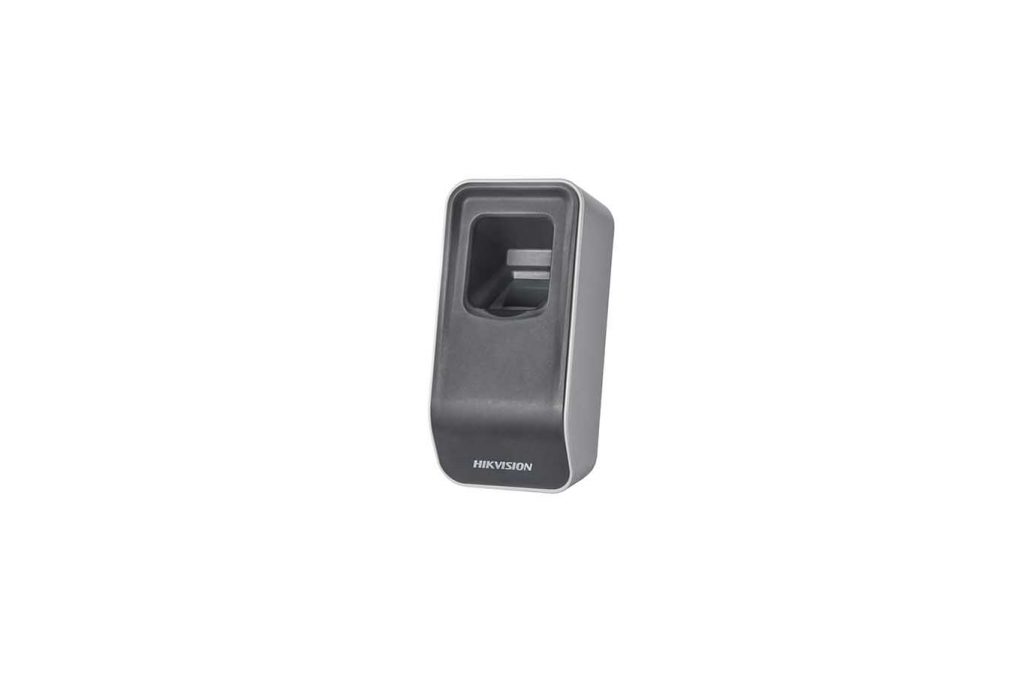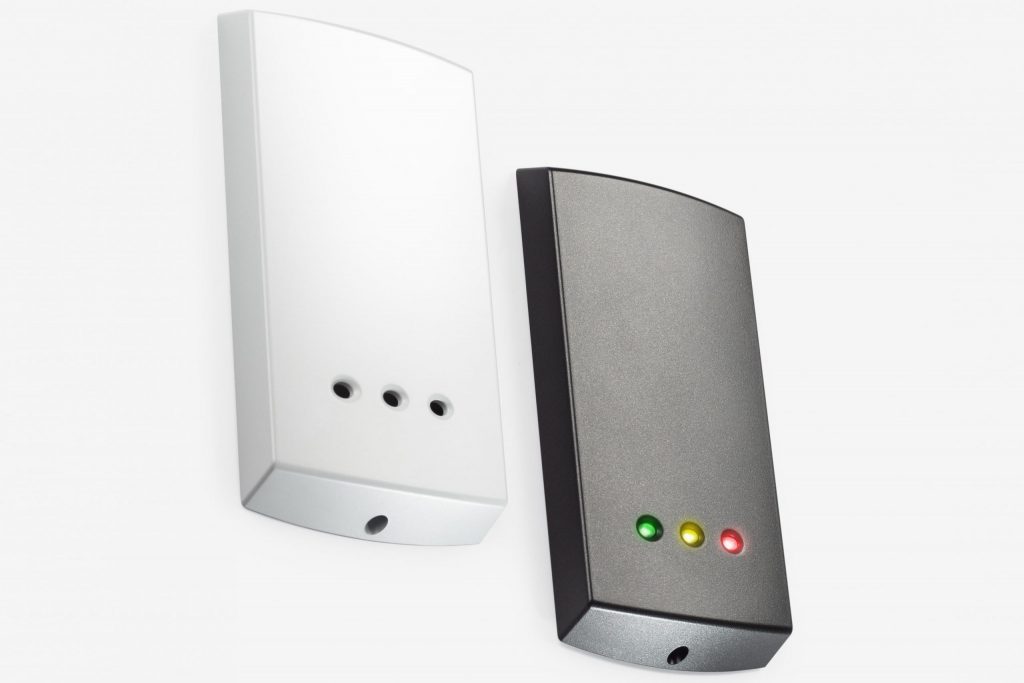 Proximity readers
ideal for controlling and monitoring access to a single door/gate. multiple units can be installed on site with different levels of authorisation.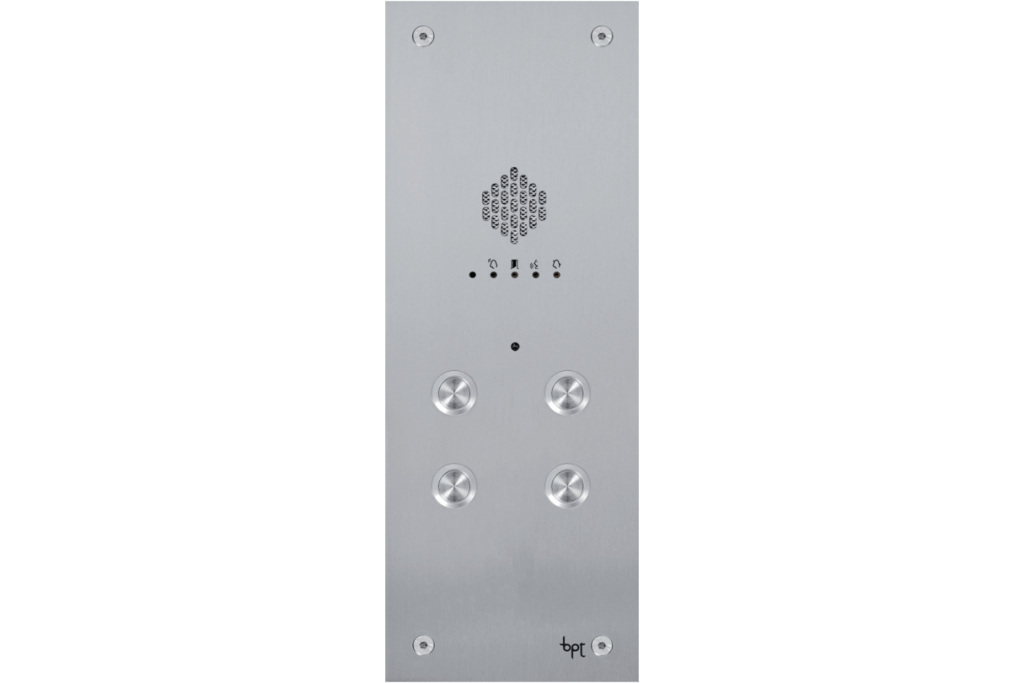 Audio intercoms
A simple audio intercom with a call buttons and a keypad. multiple call buttons can be added for calling different areas of the property.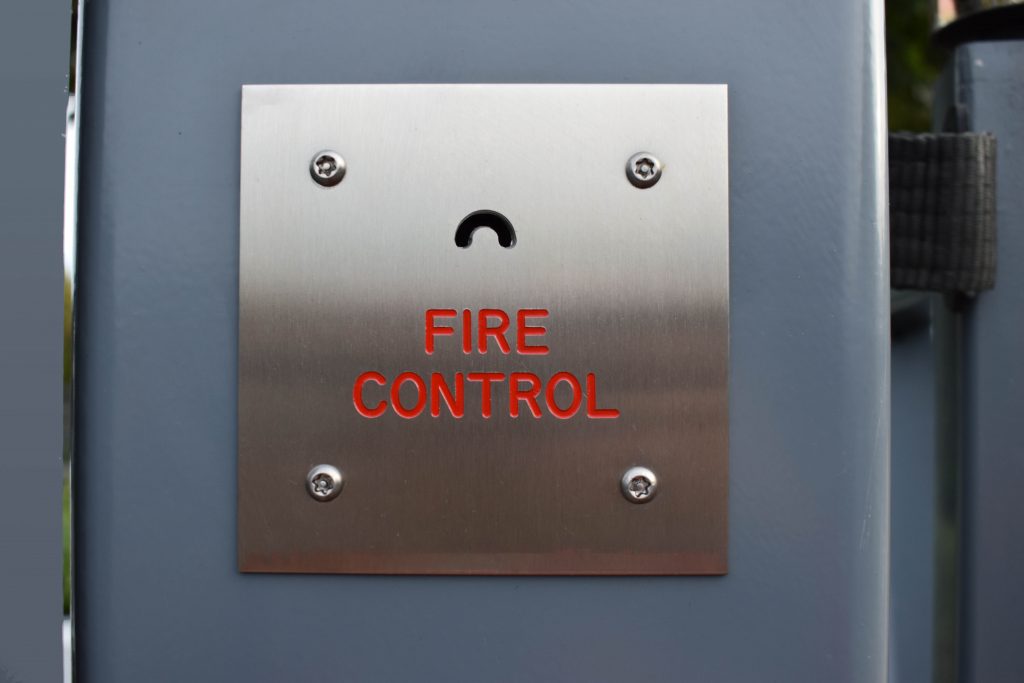 Fire switch
an emergency release switch designed for emergencies services to gain access 24/7 with a specialist key.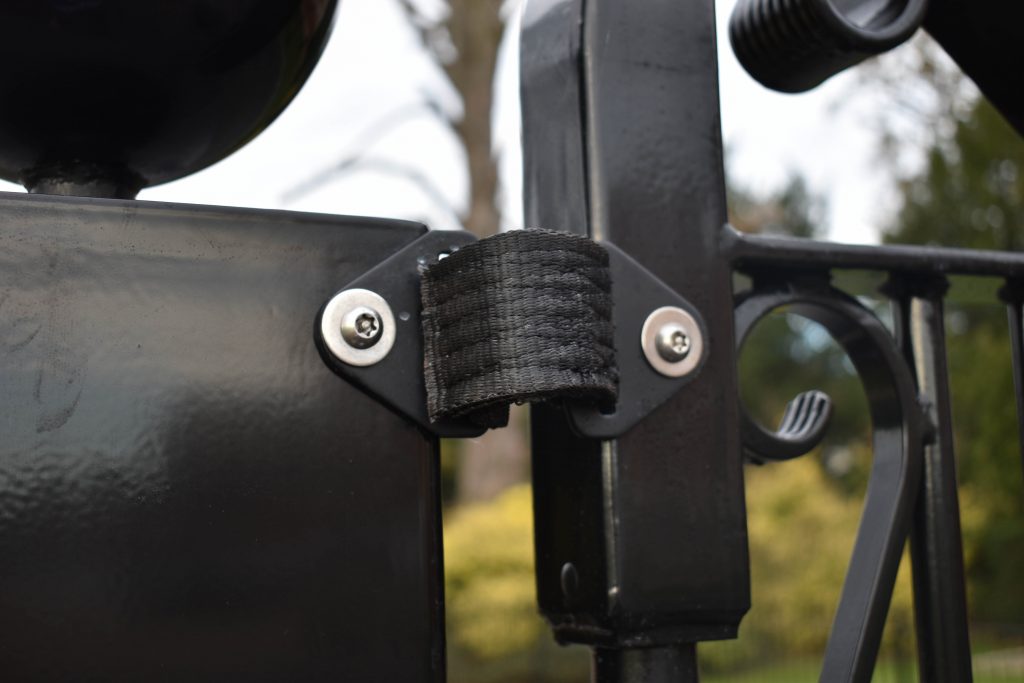 Tethers
A safety strap designed to catch the gate in the event of catastrophic failure.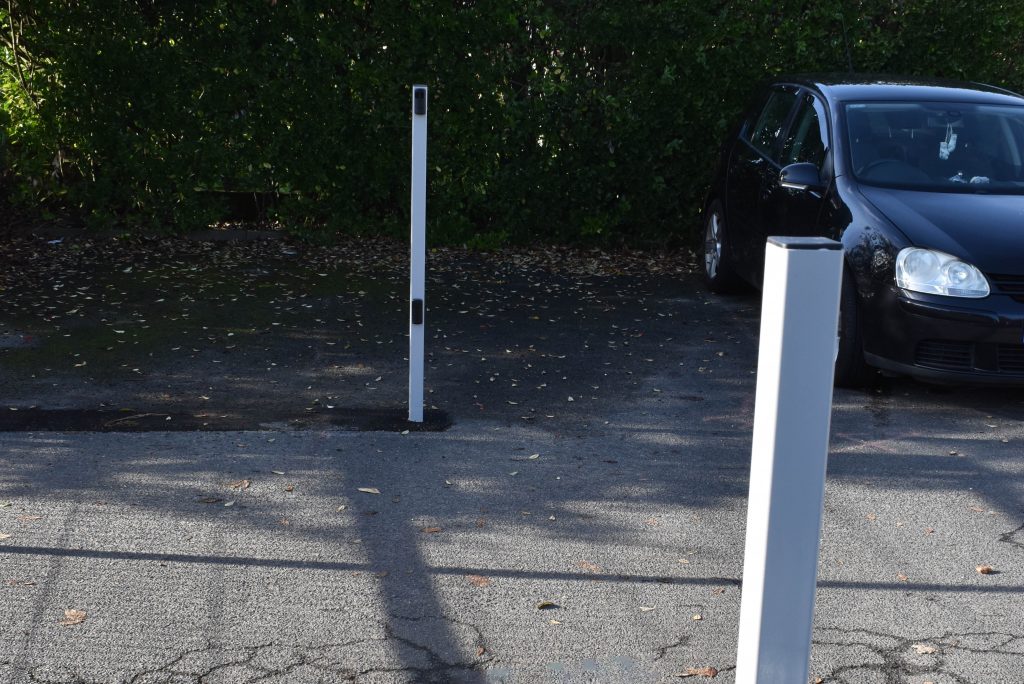 Reader Posts
Reader posts are small posts that are installed as a pair, and are set back from the gate in a parallel line. these posts have photobeams mounted on them, prevent the gate from operating should the beams be tripped. they primarily stop a vehicle from approaching too close when the gate is in operation.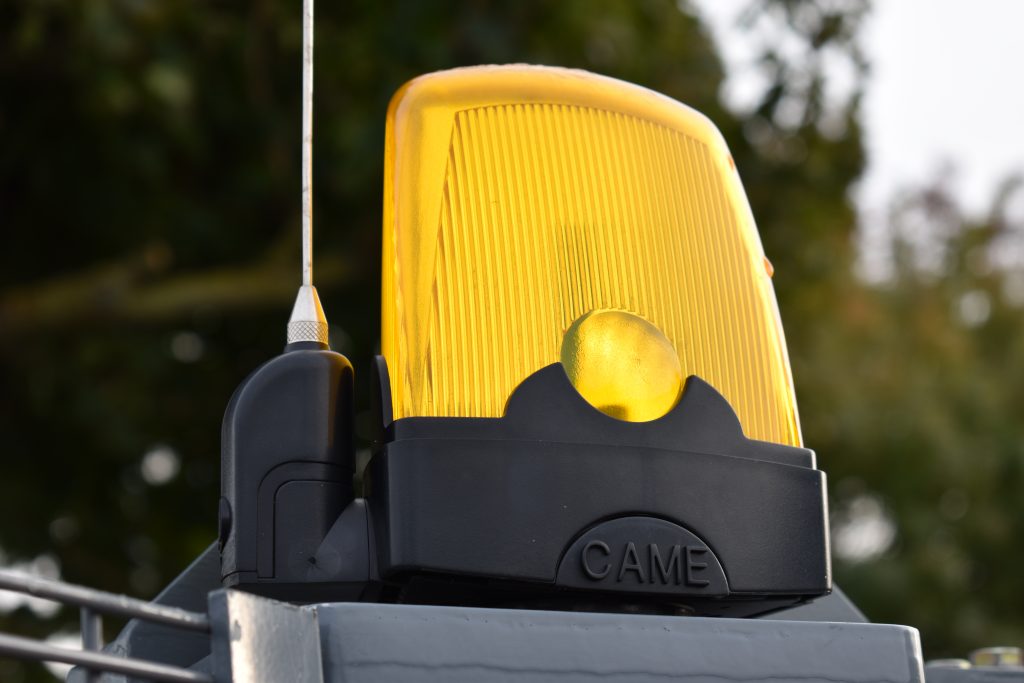 Flashing beacon
A visual cue that the gate is about to start or is in operation.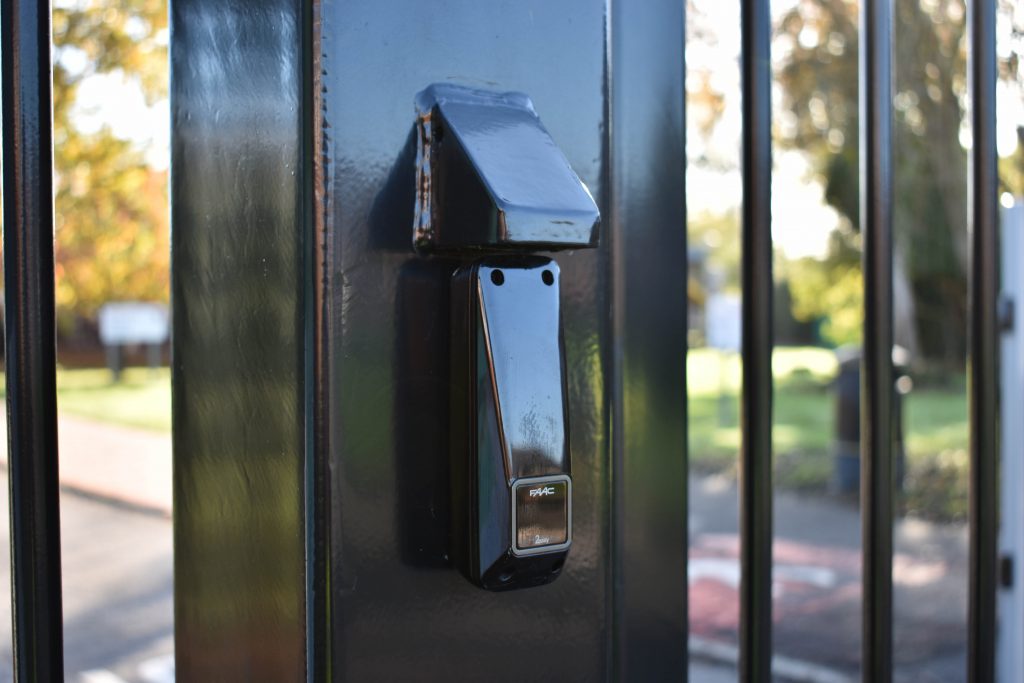 Photo beams
optical tripwires that prevents the gate from operating any further if it detects an obstruction. all automated gates with come with at least one pair.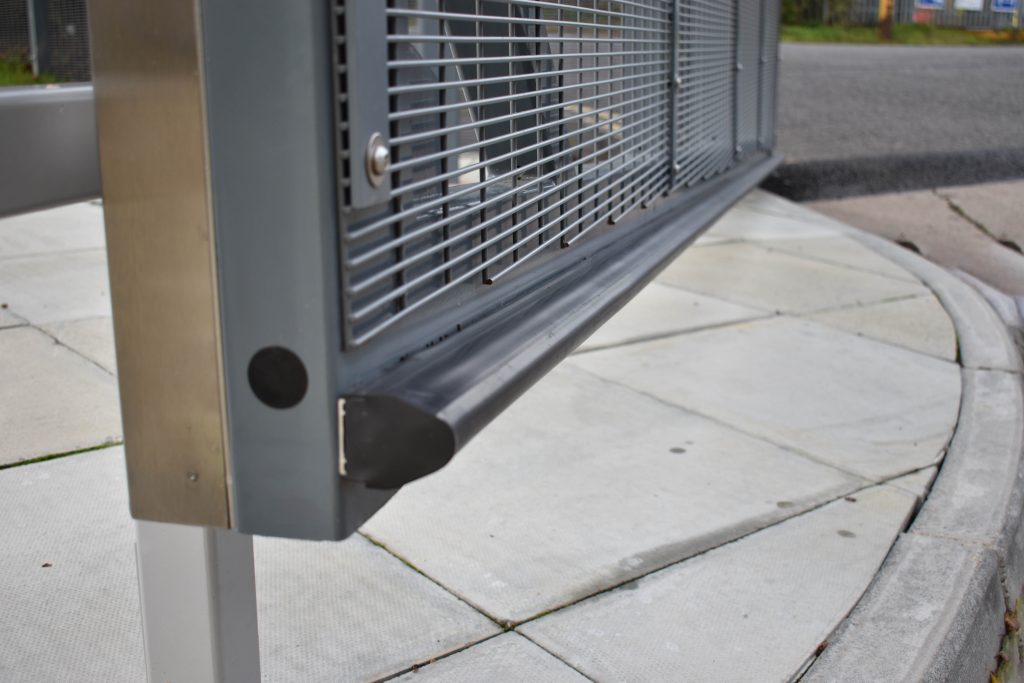 Safety Edge
These are soft rubber strips mounted onto the leading edge of a gate/barrier that can detect any obstructions it comes into contact with. This is an ideal last line of defence for a gate.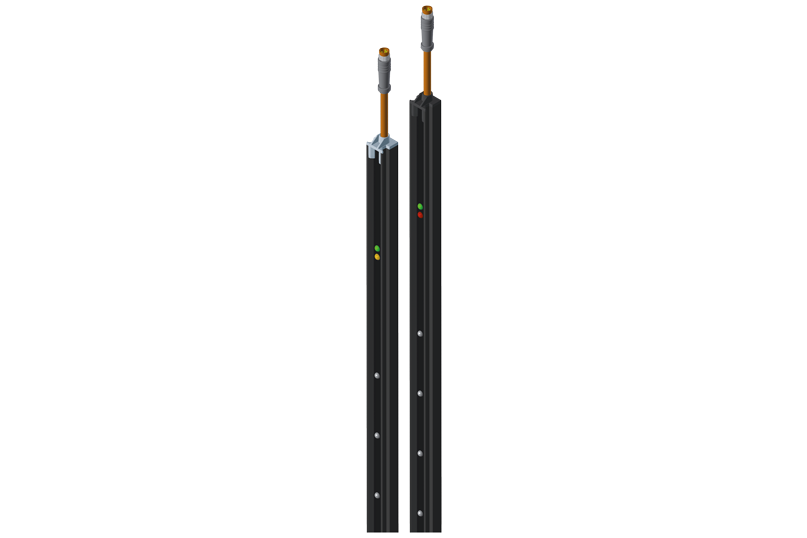 Light Curtain
similar to the photo beam, this device produces an optical plane that prevents the gate from operating when it detects an obstruction.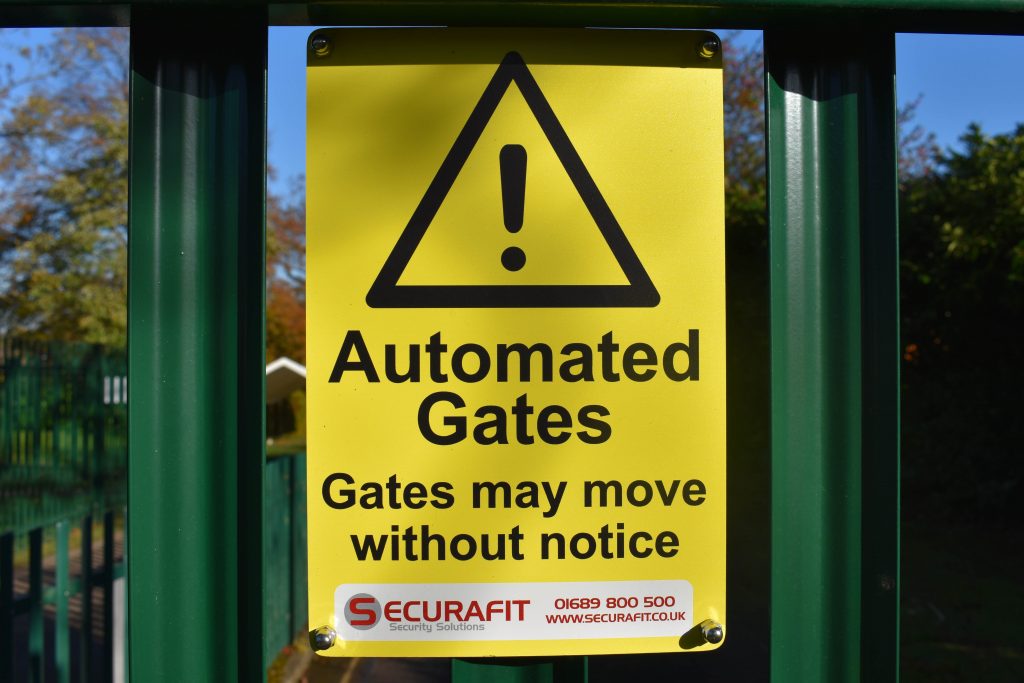 Automated Gate warning sign
A mandatory sign warning users that this is an automated gate and it could move without notice.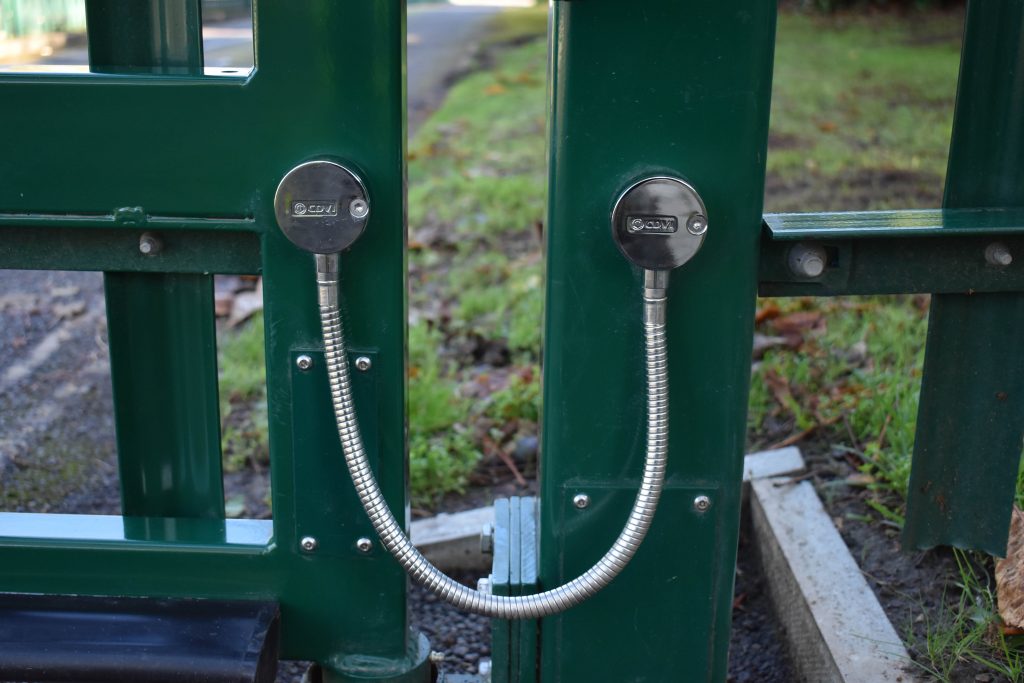 Armoured loop
A weatherproof, reinforced cable route designed to run cables between two moving objects (i.e. the gate leaf & post) designed to mitigate wear and tear.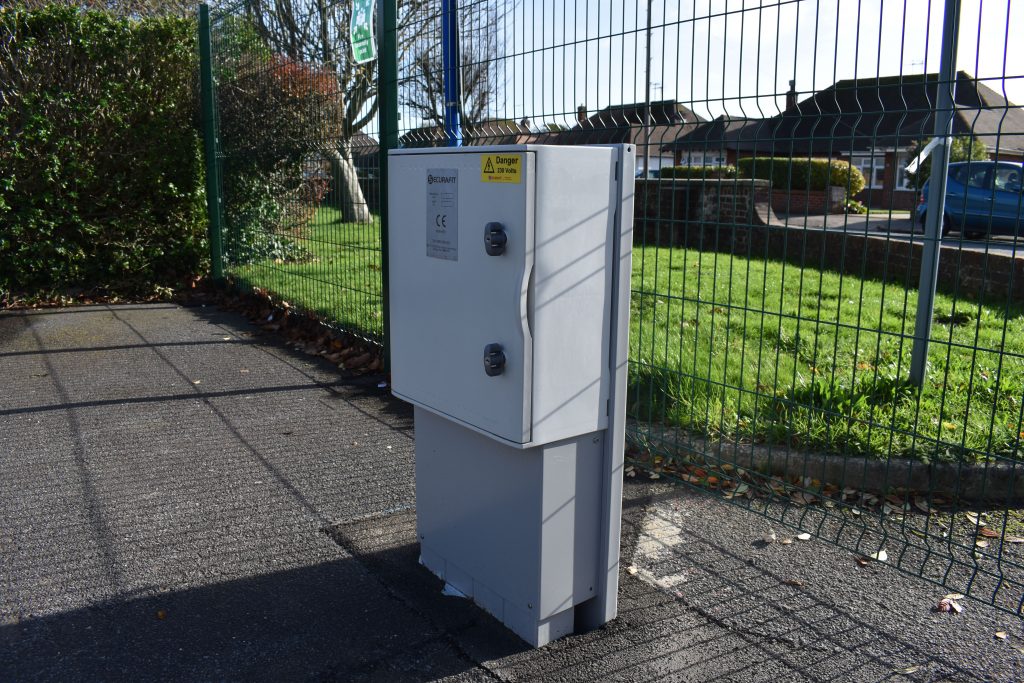 Cabinets
high quality enclosures designed to house electrical equipment for the automated gate. these are positioned near gate in question, on the secure side.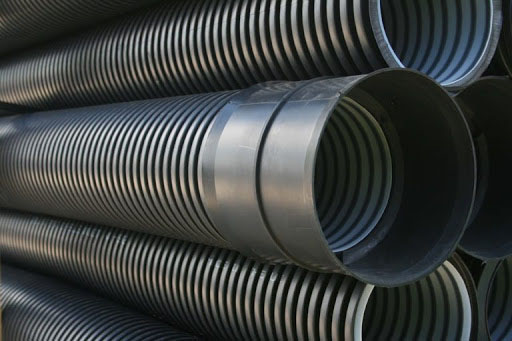 Twin-wall ducting routes
high quality enclosures designed to house electrical equipment for the automated gate. these are positioned near gate in question, on the secure side.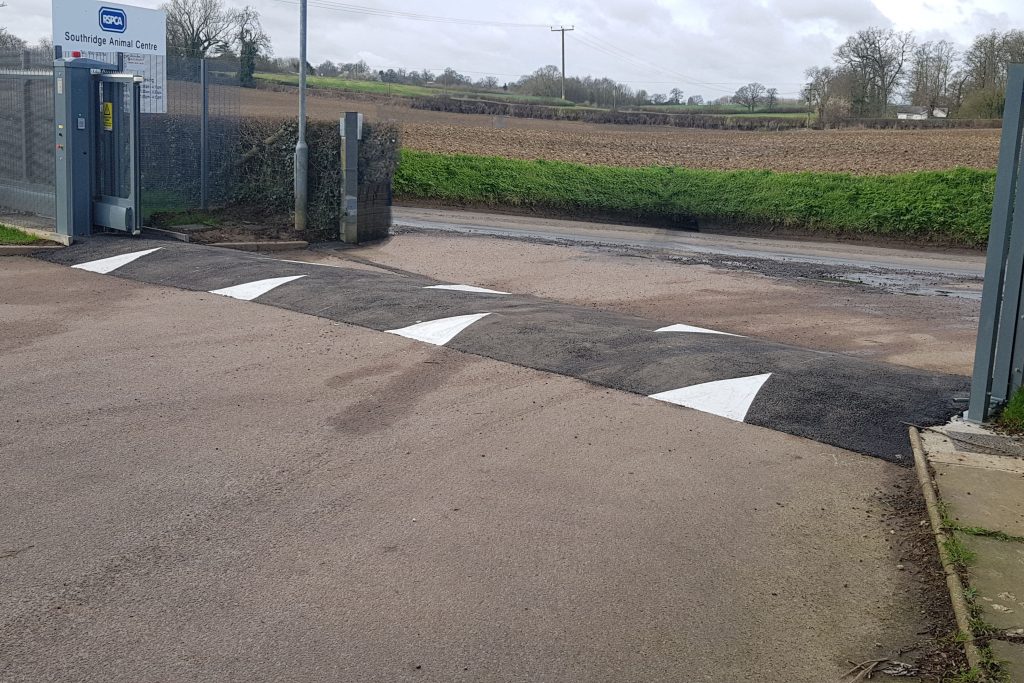 Speed Bumps
These devices are ideal for controlling traffic speeds on your property. speed bumps can be made bespoke to each site.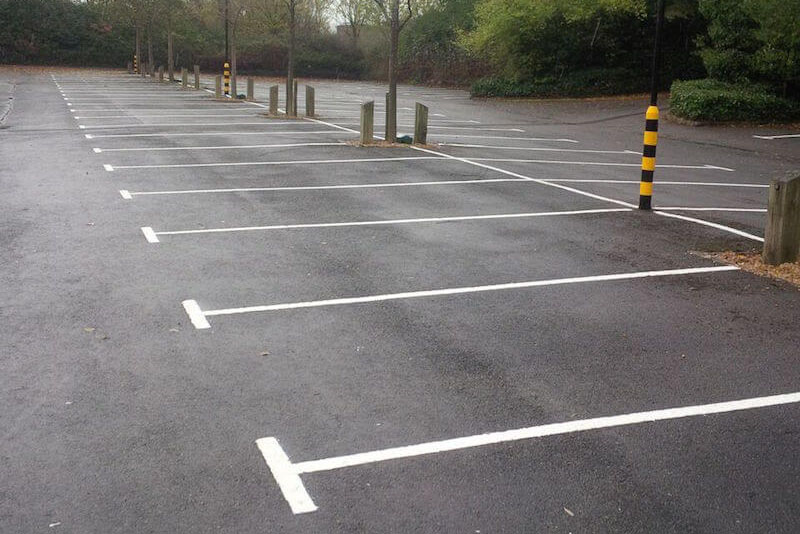 Thermoplastic line marking
Road markings are very important – from denoting parking spaces, boundaries & hazards etc. with the finishing of any groundworks ,we can install line marking to what they once where, as well as any new line markings.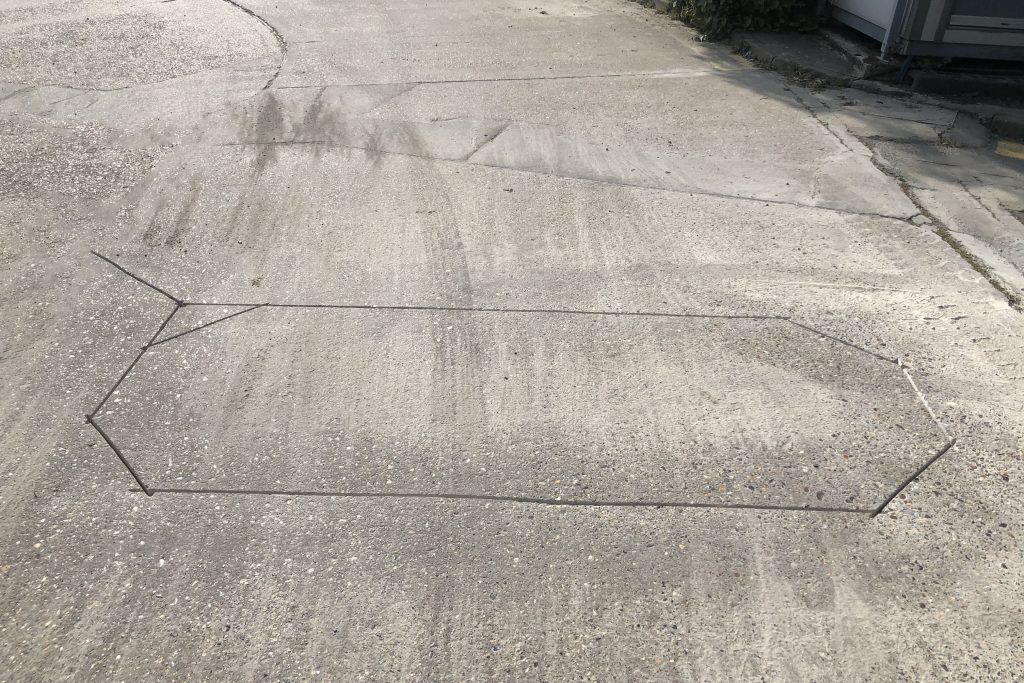 Ground Loop
A ground loop is a common device used to automatically operate a gate ( typically by a vehicle that is trying to leave the site) without the need for any other form of access control. in essence, it is a metal detector hidden in the ground that can detect the presence of a vehicle – and open the the gate as a result.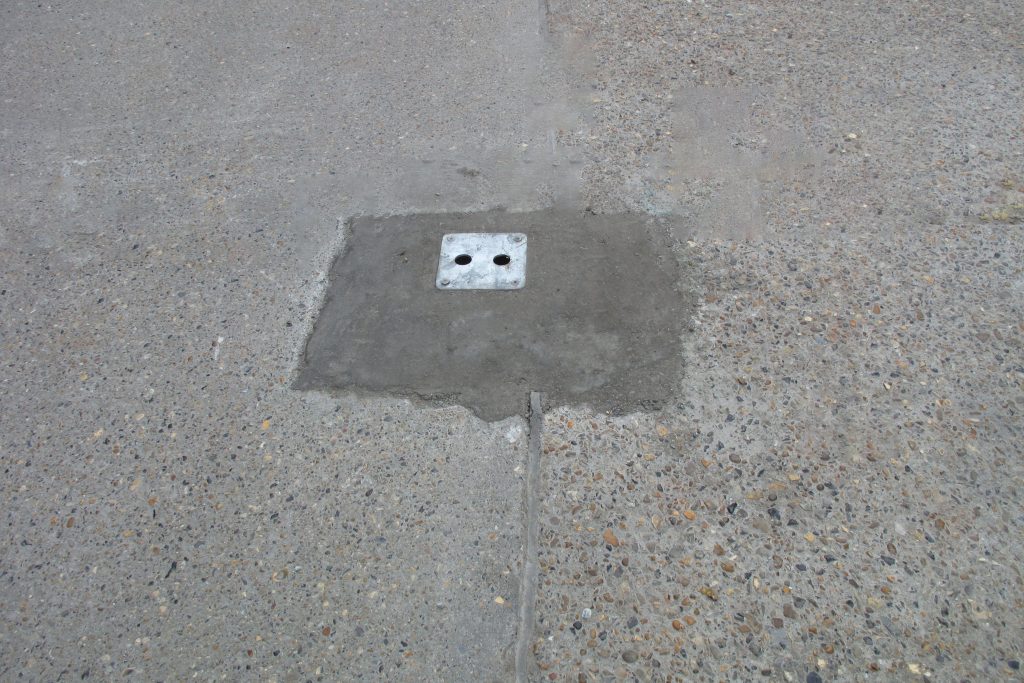 Ground sockets (for dropbolts)
Grounds sockets are small devices inserted flush into the ground, designed to secure dropbolts whilst being designed for easy cleaning and maintenance.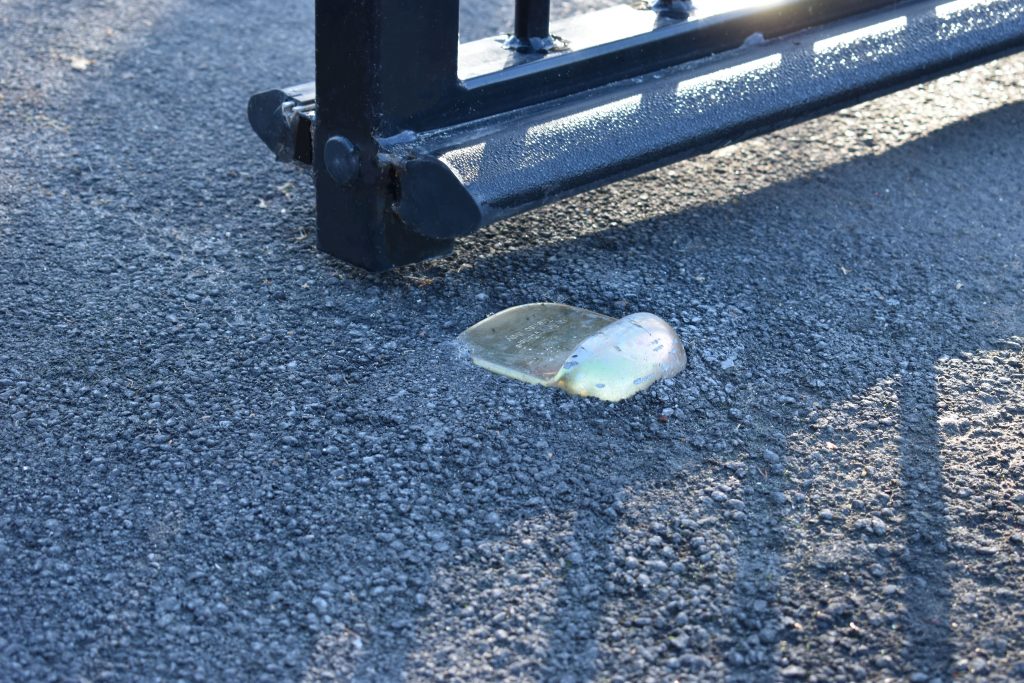 Ground stop
A small protrusion set into the ground, designed to stop the gate in the 'closed' position. Due to the rounded form and low profile, these ground stops are suitable for vehicles gates and resistant to being driven over.